Canva – 8. Designing Logo Usage Guidelines With Canva
Check Out More At: Canva
Software: Canva | Canva Affiliate Program
Canva – 8. Designing Logo Usage Guidelines With Canva
Designing a logo is one of the most important aspects of any branding strategy. A great logo is the cornerstone of any strong brand identity. Canva is a user-friendly graphic design tool that makes it easy to design a logo, even if you don't have any design experience. CREATING A CANVA ACCOUNT Creating a Canva account is easy and free
Simply go to www.canva.com and sign up using your Email, Facebook or Google account. Once you're signed in, it's time to start designing your logo. SELECTING A TEMPLATE Canva has built a library of customizable templates to make designing your logo easy
To access these templates, click on the "Create a design" button on the left-hand side of the Canva homepage. Once you're in the design editor, select the "Logo" design type from the drop-down menu
This will bring up all of the logo templates that Canva has to offer. You can also use the search bar to find a specific template that you have in mind
For example, if you want to design a logo for a business that sells pet supplies, you can search for "pet store logo" and a variety of templates will appear. Once you've found a template you like, click on it to open it up in the design editor. CUSTOMIZING YOUR LOGO Now it's time to start customizing your logo
Canva's design editor is incredibly user-friendly and easy to use. To change the colors of your logo, simply click on the "Color" button on the left-hand side of the editor. Canva has a library of pre-selected colors, or you can input your own hex color code
If you're not sure what colors you want to use, you can browse Canva's color palette for inspiration. To change the font of your text, click on the "Text" button
This will bring up all of the different font options that Canva has to offer. Once you've found a font you like, simply click on it to add it to your design. If you want to add an image to your logo, click on the "Uploads" button
This will bring up all of the images that are stored in your Canva account. You can also upload new images by clicking on the "Upload your own images" button
Canva accepts JPEG, PNG and SVG files. Once you've found an image you want to use, click on it to add it to your design. Once you're happy with your design, click on the "Download" button in the top-right corner of the editor. Canva offers three different file options for downloading your logo: PNG, JPG and PDF
PNG and JPG files are best for digital use, while PDF files are best for printing. And that's it! You've successfully designed a logo using Canva.
Canva
Canva is a comprehensive online graphic design platform with an easy-to-use drag and drop interface, allowing users to create professional-quality visuals for web, print, and other tasks.
It offers a wide selection of templates, fonts, images and illustrations to help users craft beautiful designs quickly and easily.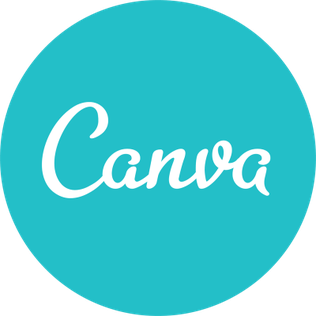 We earn a commission if you make a purchase, at no additional cost to you.