Canva – How-To Record Your Screen
Check Out More At: Canva
Software: Canva | Canva Affiliate Program
Canva – How-To Record Your Screen
How-To Record Your Screen Screen recording is a powerful tool that can be used for everything from presenting information to illustrating a process. If you're trying to figure out how to do something on your computer, for example, someone can quickly and easily show you by recording their screen
There are a few different ways you can record your screen. This how-to guide will show you two different methods using the free online design platform Canva. Method 1: Canva's Built-In Screen Recorder To start, open Canva and create a new design
Click the "+" icon in the left-hand menu and select "Record Video" from the drop-down menu. A pop-up window will appear asking you to give Canva permission to access your computer's microphone and camera
Click "Allow" to continue. Next, you'll see a preview of your camera feed as well as options to record with or without audio, and to show or hide your cursor
When you're ready to start recording, click "Record." To stop recording, click the "Stop" button in the top-right corner of the Canva interface. Your recorded video will automatically save to your design. Method 2: Using QuickTime Player If you'd prefer to use an external screen recorder, we recommend QuickTime Player
QuickTime Player is a free application that comes installed on all Mac computers. To open QuickTime Player, go to your Applications folder and double-click the icon. Once QuickTime Player is open, click "File" in the top-left corner of the screen and select "New Screen Recording" from the drop-down menu. A small pop-up window will appear with recording options
To choose the audio input source, click the small arrow next to the record button. We recommend recording with audio so you can provide narration as you record your screen
When you're ready to start recording, click the record button. To stop recording, press ⌘-Control-Esc or go to the menu bar and select "File > Stop Screen Recording." Your recorded video will automatically save to your computer. Now that you know how to record your screen using Canva and QuickTime Player, you can start creating informative videos for work, school, or simply to share with friends and family.
Canva
Canva is a comprehensive online graphic design platform with an easy-to-use drag and drop interface, allowing users to create professional-quality visuals for web, print, and other tasks.
It offers a wide selection of templates, fonts, images and illustrations to help users craft beautiful designs quickly and easily.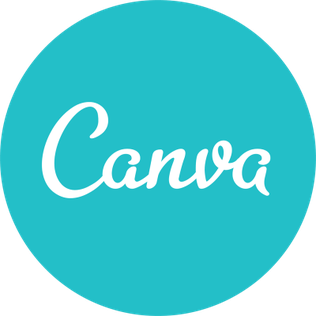 We earn a commission if you make a purchase, at no additional cost to you.